The Salesman's B2B And B2C Marketing Tools
By: James A. Warholic, President of Professional Web Services, Inc.

Making a Good Sales Man — Woman

Most B2B or B2C companies have salesmen or saleswomen working for them. Not all companies supply good tools for making them successful. Many companies hire sales people and expect them to go out and get orders without proper training in the equipment, software, processes, or products. Even if the training takes place, many companies forget the power that the Internet provides for businesses willing to spend some time and money to help their sales people do a better job.

The main Internet tool that I am talking about is the company's website. Let's say for the moment that you have trained your sales people in the products or services provided by your company. Now that same sales person needs to make sales calls to various organizations. Sometimes those sales calls are in-person, on the phone, or many times in emails. Nine times out of ten a follow-up e-mail is sent out to the engineer, buyer, or consumer in order to give contact information, provide answers to additional follow up questions, or simply to send a thank you for the time spent with them.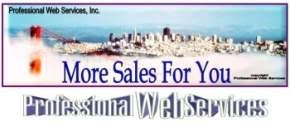 The importance of the e-mail is often overlooked in what can be accomplished through this important tool. Emails are a prime area to provide additional information in the form of a signature block. Signature blocks can be much more than just your name, address, and business phone number. This is where you can have a link to your website, with some other pertinent information related to your business Brand. It is one thing to have the link to the website in the form of the URL, i.e. www.pwebs.net but expanding this information to say something about your business can make a much larger sales impact.

For an example of something that could be said about our business is:

Professional Web Services, Inc. provides Internet Marketing Services, Online Advertising Strategies, and Web Branding Solutions for your business on the Internet. Expand your market reach today. Contact Professional Web Services.

Now, let's look at that same example and create a few hyperlinks in it.

Professional Web Services, Inc. provides Internet Marketing Services, online advertising strategies, and Web branding solutions for your business on the Internet. Expand your market reach online today. Contact Professional Web Services.

This same text with the built in hyperlinks makes it easy for a customer to go directly to various landing pages from within the email to the website. Imagine the sales impact that this type of marketing has on the customer. It is simple and elegant; along with a form of online advertisement about the B2B or B2C company. After all, the customer is reading your e-mail, which means they are already online. It is a simple click to go to your website.

Now, for those businesses that have multiple product lines or different services for various industries it would be a good idea to have more than one signature block along with good landing pages for each industry. This is where a company's website is important as a sales tool for the sales person. In fact, many times it is the sales people that have insight into what information the customers are looking for. Get the feedback from sales to develop good landing pages. This takes effort on both the sales people, management, and the person responsible for the website. It requires strategic communications between all three groups to help create the best information possible.

Once the pages are created, sales and marketing can utilize this in more ways then one. Back to the e-mails for a moment. Do not assume that your sales person knows how to create keyword hyperlinks. Most email applications have what is referred to as the link button. Typically the way this works is a person writes the text and then highlights the text that they wish to make into a hyperlink. Once the text is highlighted then click on the link button to enter the URL address of the page you wish to make the landing page. If you have the website open, simply go to the page that you would like a customer to go to and then click on the address bar at the top and copy it using the copy button or on a PC, right-click copy from the mouse, or in the Apple Mac world; shortcuts, menu button, or a two button mouse can also be used the same way. Then go back to the email and paste it into the address link field. Now you have created an email link to the landing page. They should also include the hyperlinks in the body of the email. Reading the information in context while being able to click the link is an excellent way for the prospect or customer to get to your key landing page in the website.

Encourage sales to utilize the pages of the website for any type of e-mail communications. The reason is, many people will hold on to those emails for a long time. Even if a customer is not interested in the product or service right now, they could be interested in the future. It would simply be a matter of them opening the email and going directly to the page of the website.


This all comes down to having the pages in the website to support your sales people. Without the proper information available to a salesman online, it is less likely that a current prospect will become a future customer. Ultimately that is what sales is all about. Developing prospects and converting them into paying customers.

24 x 7 x 365 Salesman

With Professional Web Services, Inc. Ultimate Salesman we can help bring in prospects to your business. Let us show you how to put the right tools in the hands of your sales people and develop a website with some creative Internet marketing style that can be used as a 24 x 7 x 365 sales, marketing, and advertising business tool. Contact Professional Web Services today to start providing mores sales, referrals, and leads for your B2B or B2C business tomorrow.